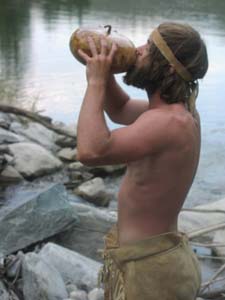 Through several months of classes and prep work, students learn a broad range of wilderness survival and living skills. They tan hides and make their own clothes, felt their own blankets from raw wool, manufacture burden baskets, and make gourd canteens and containers and clay cooking pots. They make their own primitive fishing, trapping, and hunting gear, harvest wild edible plants and process wild meat, and they learn primitive methods of fire-starting.
When the classes are all done, and the students have created a full set of Stone Age gear, then they are invited (along with anyone else who is equally qualified), to participate in a free, extended Stone Age Living Project - spending weeks or months living the way our ancestors lived. Lynx is presently gathering students for her 2013 programs.
PAST PROJECTS: HIDDEN LAKES
2012
PAST PROJECTS: WHITE CLOUDS
2011
The making of LIVING WILD - A film by Eric Valli
PAST PROJECTS: SAWTOOTH RIDGE 2010
Six people set out into the wilderness to live completely Stone Age, apart from a camera and diary. We prepared for four months ahead of time, making all our own clothes, shoes, stone and bone tools, pottery and hunting and foraging, too. This is a photo journal of our wilderness experience.

We were also joined by photographer Eric Valli who published his pictures in the book entitled

"Rencontres hors du temps"

October 2011









---
PAST PROJECTS: MYSTIC MOUNTAIN
2009
The 2009 Stone Age Project began May 25th and ran through August.
The objectives for the project are:
Nurturing an appreciation of the Earth as a living organism;
Re-kindling and applying the practical skills based on ancient knowledge;
Experiencing the inter-dependence necessary in community living.
---
- PAST PROJECTS: NOMAD SUMMER
2005
: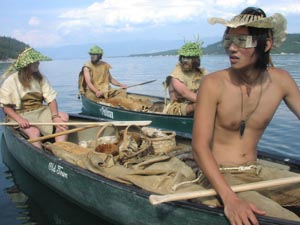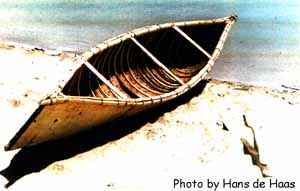 PAST PROJECTS: WATERCRAFT, KOOTENAI RIVER 2
2004
A Stone Age Living Experiment in Western Montana
Have you ever wondered if you could not only survive, but thrive in the wilderness using only the abundance that nature provides? Some of us learned these ways as children from our parents and grandparents. For others, the skills were lost and forgotten far back in our ancestry.
PAST PROJECTS : YAAK RIVER
2003
Fall of 2003 saw a traditional bow hunting experiment with the Hunter-Gatherer Project,
PAST PROJECTS: KOOTENAI RIVER
2001
In the summer of 2001, the Kootenai River Project began the Stone Age Living Series, with a two-month long berry camp. which was documented in the Bulletin of Primitive Technology.
---



INSTUCTOR PROFILE OF LYNX VILDEN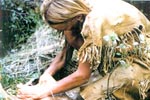 "I grew up in Europe where I experienced a varied youth including phases as a punkrocker, performance artist and musician. I also spent time amongst the Sami reindeer herders of Northern Sweden. My life changed radically on emergence from my first sweat lodge ceremony in 1989 with the realisation of the calling back to the Earth, learning, sharing and teaching the old ways. This has been my lifestyle and my passion for the last 16 years while I have lived in the Rocky mountain states from Montana to New Mexico.